PRONORM Y-LINE ICE BLUE AND URBAN WALNUT WITH SILESTONE MIAMI VENA QUARTZ WORKTOPS
This distinctive handleless galley-style kitchen in Adel, boasts powerful parallel lines that swathe each side of the space, creating a sense of elongation and openness. The rich wooden hues of the Urban Walnut upper cabinetry effortlessly enhance this streamlined design with warmth and texture, the mesmerising delicate grains of the oak flow along either stretch of the space adding another dimension to this exquisite kitchen. The wooden accents are perfectly offset against the neutral shade of the Ice Blue lower units, creating a tantalising blend of colour.
The panel lighting combined with the sumptuous spotlights and the eye-catching skylight, form a dynamic lighting arrangement which illuminates all the subtle features of the design. Complementing the reflective properties of the Silestone Miami Vena Quartz worktop which adorns the surfaces, embellishing the overall aesthetic with its soft polished finishes. The expanse of cabinetry offers plentiful opportunities for storage, from the deep sliding drawers to the tall, towering larders, there are plenty of places to tuck away any unwanted clutter.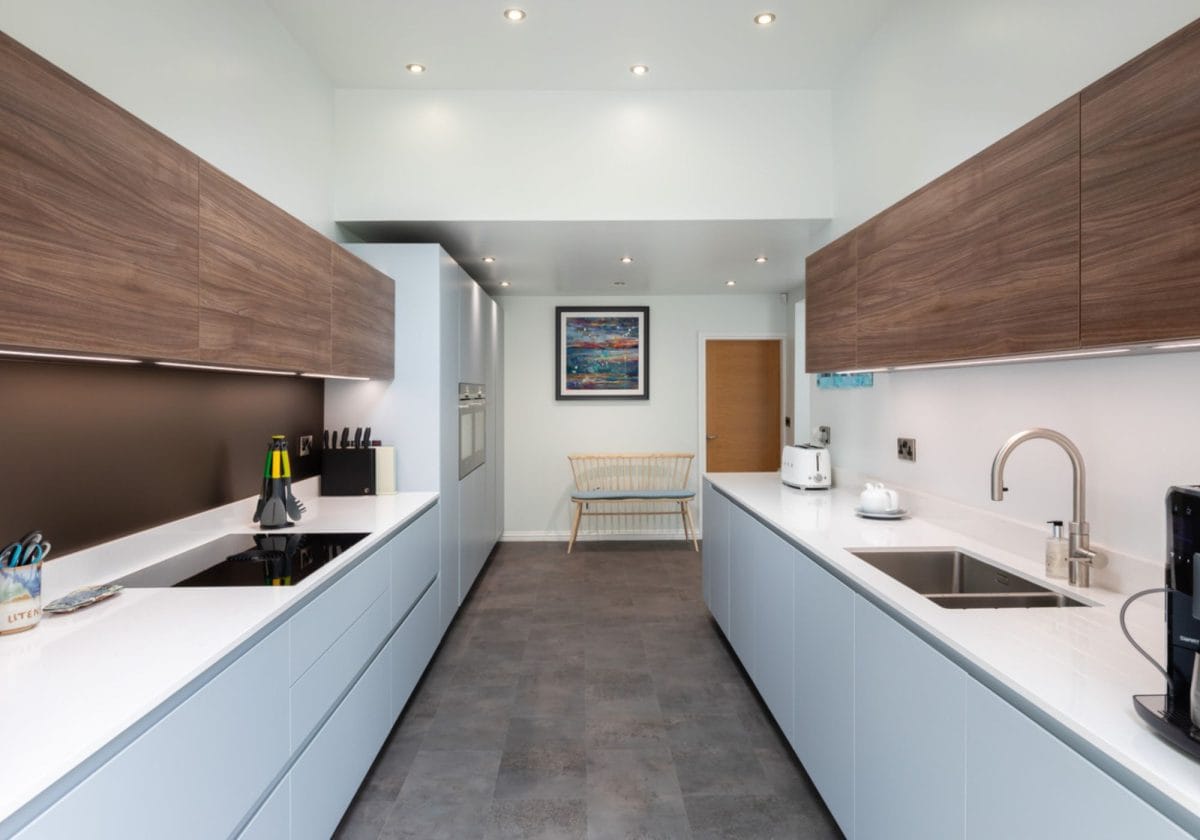 With a range of advanced Siemens appliances, the versatile Quooker tap, and the state-of-the-art Bora hob, the functionality of this Adel kitchen matches its appealing aesthetics with impeccable efficiency.
Key Features
Silestone Miami Vena Quartz Worktops
Bora Hob
Quooker Tap
Siemens Appliances
Blanco Sink
"This sleek streamlined design with its minimalist approach maximises the utilisation of our client's space, achieving a perfect balance between aesthetics and functionality. Our clients in Adel were thrilled with the results."
Director | Kreativ Kitchens
Matthew Grantham