PRONORM CUBANIT & ORGANIC GLASS BLACK WITH SILESTONE BLACK TEBAS WORKTOPS
Pairing clean, minimalist cabinetry with a soft taupe grey and contrasting black colour scheme instantly imbues this space with chic drama and sophistication. Striking sleek lines and coherent modernist-inspired planes give this Leeds kitchen a crisp architectural finish. The overall effect is truly stunning.
Handleless Y-Line cabinetry from Pronorm eradicates any extraneous detailing, removing all functional connotations. A state-of-the-art Quooker tap goes a step further by eliminating the need for an unsightly electric kettle while cleverly disappearing against the exquisite, Silestone Black Tebas splashback. Pronorm's brilliant pocket door system hides a luxurious drinks area and fantastic wine cooler, leaving few clues as to this kitchen's outstanding functional capabilities. The seamless flush-fitting Bora extraction hob completes this extraordinarily stylish concealed kitchen.
The minimal styling and gorgeous colour scheme at the heart of this Leeds kitchen creates a breath-taking backdrop to the open-plan living space. A bespoke TV unit and Ronda Design magnetic wall feature establish a sense of cohesion between the kitchen and living areas; as do a series of wonderful black finishing touches, such as the vase, black pendant lights, Crittall doors and photo frames.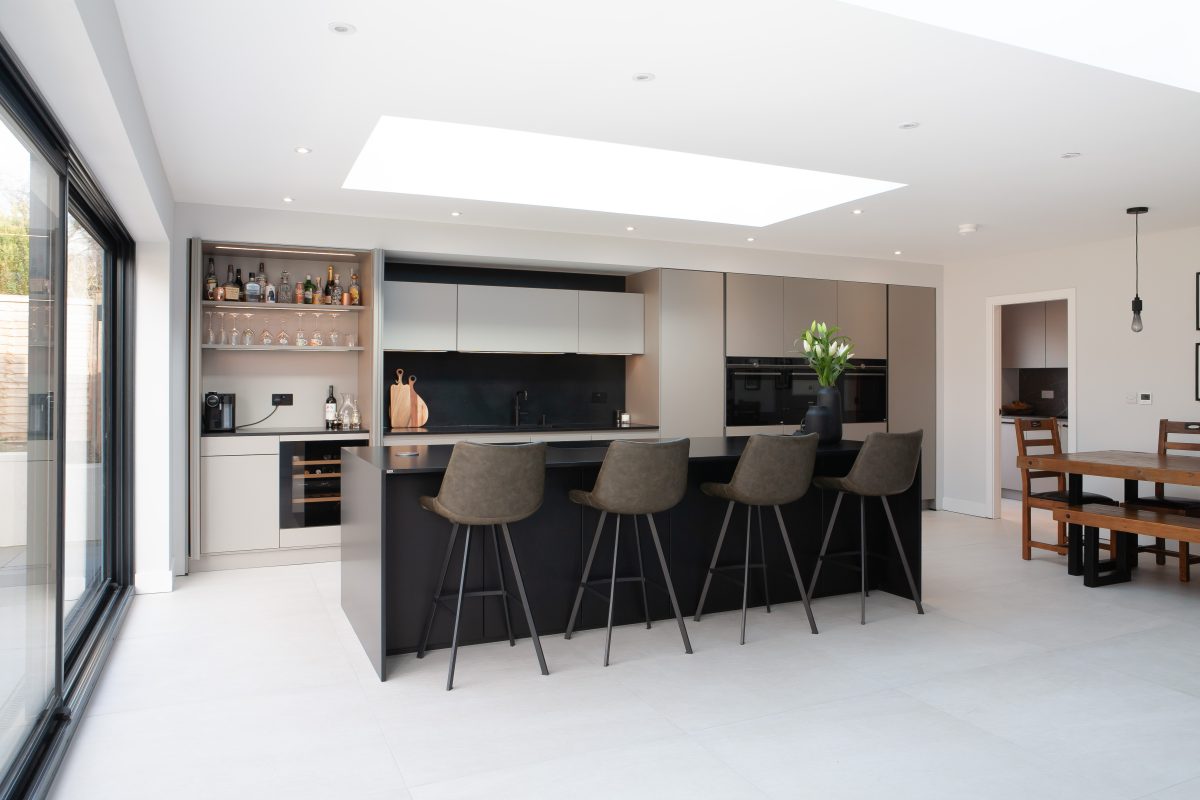 We also designed and installed the adjoining utility room with practicality in mind. Bespoke housing raises the washing machine and tumble dryer to a more convenient height while allowing us to maximise storage with separate drawer and cupboard compartments. From the kitchen to the utility room, not a single detail has been overlooked in the design and installation of this breath-taking Leeds kitchen project.
Key Features
Handleless Y-Line cabinetry
Bespoke TV unit
Bora extraction hob
"This exceptional, elegant and practical kitchen was a pleasure to design and install. The pocket door bar unit undeniably makes for an enviable feature."
Director | Kreativ Kitchens
Matthew Grantham