DARK SHERWOOD & BRILLIANT CUBANIT HANDLELESS KITCHEN
This sleek modern kitchen contrasts Dark Sherwood units with Brilliant White gloss cabinetry for a superb contemporary aesthetic. The rich wood grain surface finish on the tower cabinets gives a luxurious and sophisticated edge to this minimalist design.
A state-of-the-art handleless kitchen suits this modern Guiseley property perfectly. The bold architectural lines of the space are echoed in the precise cabinetry. This exceptional kitchen has been fitted flawlessly for a seamless finish.
Dark flooring pairs beautifully with the similarly dark Sherwood cabinets, establishing a bold design statement. Skylights and bi-fold doors provide ample natural light which reflects off the stunning Blanco Zeus Quartz worktop and Brilliant Cubanit units, emphasising the wood grain detailing. The generous use of white in this kitchen creates a dramatic contrast whilst producing a bright and spacious atmosphere.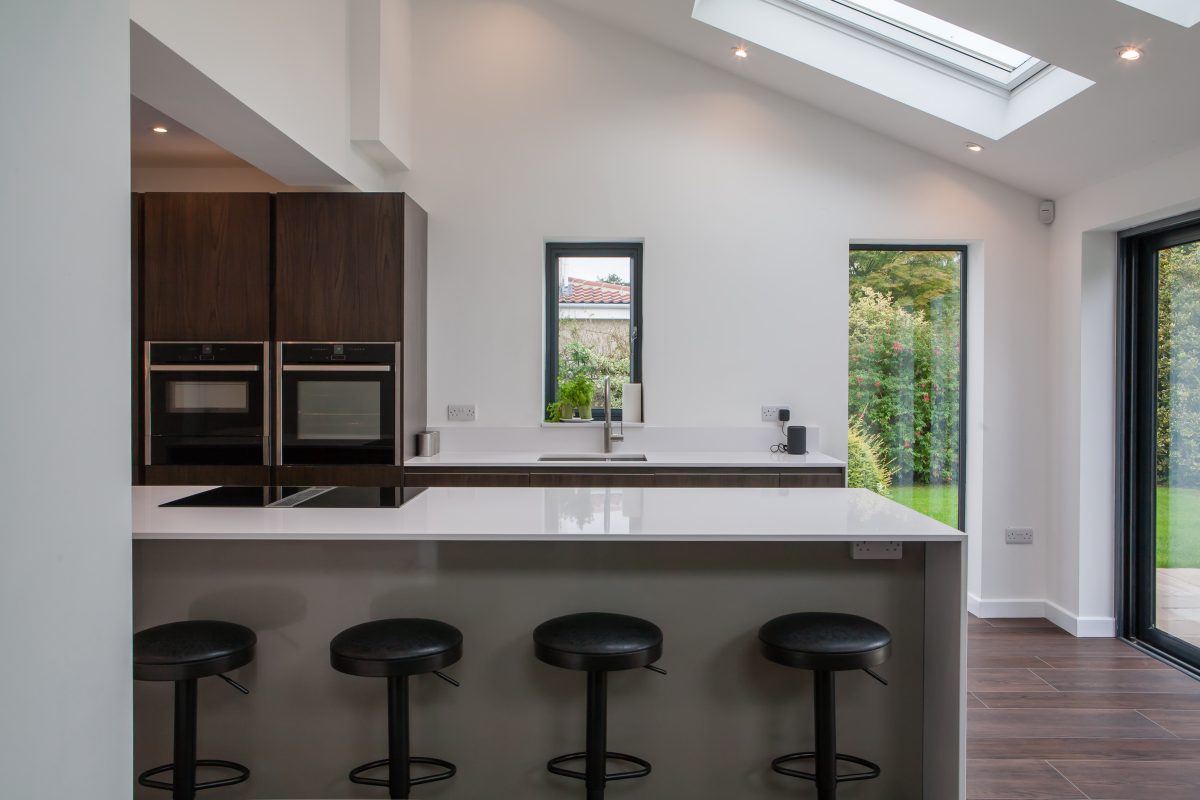 Cutting-edge appliances including a Bora hob, Quooker hot tap and pair of AEG ovens give this kitchen impressive functionality. The large kitchen island and multiple tower units offer abundant storage, keeping this minimal design flawlessly uncluttered for maximum impact. The island allows plenty of space for guests to sit and socialise with the host whilst they're cooking at the cleverly positioned hob. The handy safety features and internal extraction make the Bora hob ideal for a kitchen island. Contemporary black leather bar stools tuck neatly below the ledge of the island for an uncluttered and sleek seating area that doesn't obstruct the walkway. This kitchen is designed with practicality in mind as well as striking aesthetics.
Key Features
Wood grain detailing
Cubanit cabinets
Blanco Zeus Quartz worktop