PRONORM Y-LINE IN MIDNIGHT BLUE & LIGHT GREY WITH CALACATTA GOLD QUARTZ WORKTOPS
This striking contemporary kitchen sets a dramatic backdrop to our client's open-plan living space. Featuring a stunning central island and a streamlined run of built-in tall units, our clean handleless cabinetry brings a bold architectural feel to the space. The bank of Light Grey Organic Glass cupboards blends seamlessly into the walls, adding to the open and airy aesthetic while providing ample practical storage. Meanwhile, the Midnight Blue island establishes a breathtaking focal point, introducing a sense of depth and balance to the design.
Despite its minimalist foundations, this Halifax kitchen isn't short of luxurious and charming features. The L-shaped Spekva Oak breakfast bar ties in with the floating wood shelves and gorgeous herringbone flooring, softening the crisp cabinetry and adding a real warmth to the interior. Deeply veined slim profile quartz worktops add an undeniably opulent quality to the scheme. The splashback, in particular, elevates this otherwise pared-back kitchen. However, one of our favourite design details simply has to be the oak-lined glazed display cabinet. The internal lighting gives our client's stylish glassware an enchanting glow.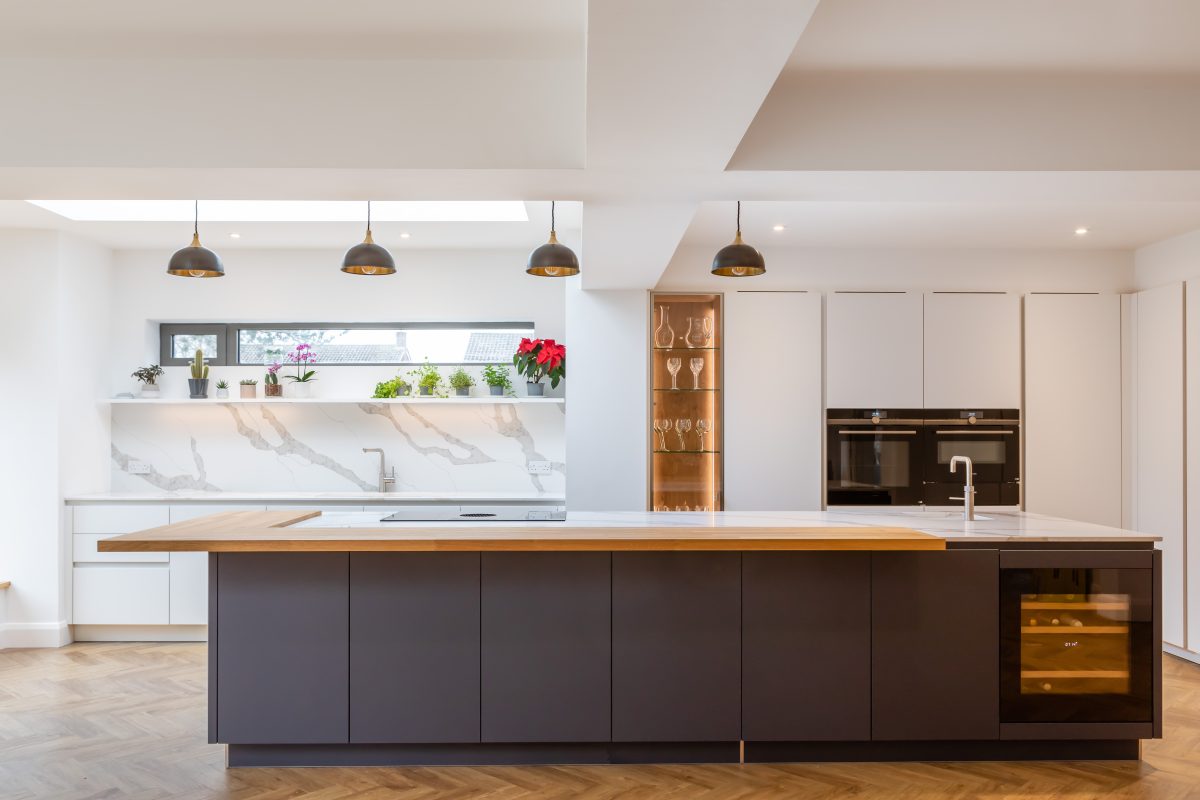 This spectacular modern kitchen does an excellent job of disguising its remarkable practical capabilities. The sleek BORA venting hob offers outstanding performance, allowing our clients to impress friends and family with their cooking skills. A high-tech Quooker tap removes the need for a clunky electric kettle, keeping the worktops completely pristine. Plus, we conveniently positioned it next to our client's impressive breakfast pantry, hidden behind Pronorm's ingenious pocket doors. With a collection of state-of-the-art Siemens appliances and ample intelligent storage solutions, this stunning Halifax kitchen delivers breathtaking looks and uncompromising performance.
Key Features
L-shaped Spekva oak breakfast bar
Quartz worktops
Oak-lined display cabinet
"We went above and beyond to ensure every practical and aesthetic detail would come together to create the chic and minimalist interior our clients were looking for."
Director | Kreativ Kitchens
Matthew Grantham