DARK SHERWOOD KITCHEN WITH BLACK HANDLES
This stunning Huddersfield kitchen has been crafted to suit our client's unique and unconventional space. Featuring a custom-designed kitchen island, mirrored coffered ceiling, and a tailormade corner pantry, every detail of this kitchen exudes bespoke luxury.
Our Huddersfield client required a central kitchen island to provide a casual seating and dining area for their family and to give plenty of accessible storage in the compact space. We presented several designs to our clients before they settled on the perfect solution. The island includes both a sink and hob at opposing ends of the unit as well as a completely bespoke teardrop breakfast bar, positioned at an angle to complement the space. With no other worksurfaces, the island was essential to the success of this extraordinary kitchen in Yorkshire.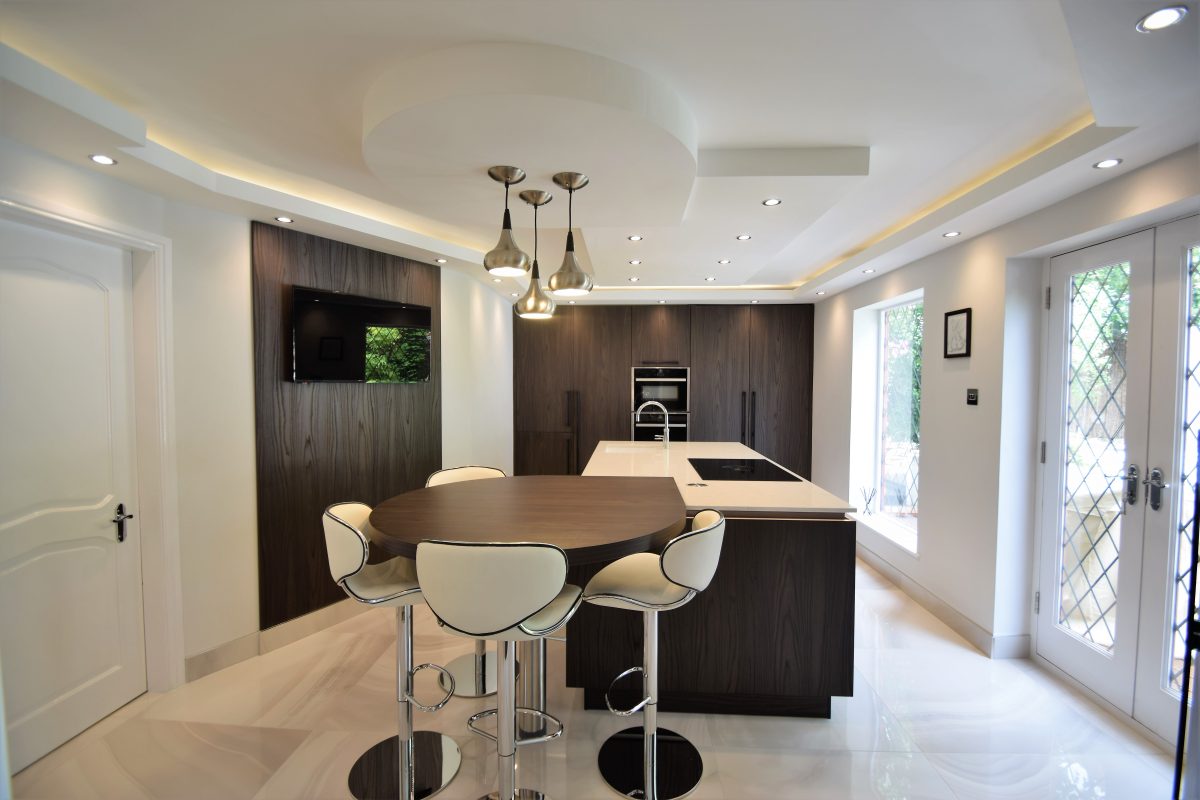 The distinctive design of the kitchen island is emulated in the unique multi-level coffered ceiling to emphasise the cutting-edge bespoke forms. The ceiling features gorgeous remote-controlled ambient lighting along the bulkhead, paired with stylish downlights to create the perfect atmosphere for entertaining whilst giving enough light for a bright and welcoming environment during the day. The carefully positioned downlights highlight the stunning dark wood tower units and pantry for a glamourous finishing touch. A trio of pendant lights reflect the teardrop shape of the table and ceiling plinth, unifying the design whilst beautifully illuminating the breakfast bar below.
Our clients had strong ideas about the look of their design, opting for stunning Dark Sherwood units with sleek black handles and luxurious Snowy Ibiza Quartz worktops, creating an opulent yet contemporary style. We introduced the Dark Sherwood panelling onto the wall to balance the design whilst cleverly disguising the wall-mounted television screen. This fantastic kitchen also conceals some outstanding features such as a gin bar hidden behind pocket doors and a spacious walk-in corner larder. This remarkable kitchen design maximises functionality in a compact space as well as looking truly exceptional.
Key Features
Custom Island
Mirrored coffered cieling
Tailormade corner pantry,
"As soon as the clients stepped into the studio they had strong ideas of what they wanted to achieve which was a great start in the design process. Several layouts of the island were presented, but the eventual design comprised of a space with sink and hob on opposing sides with a 'tear drop' breakfast bar pivoting off the far corner. The highlights of this kitchen came behind closed doors, with a bespoke walk-in corner larder and a 'pocket door' system with a hidden Gin bar behind."
Director | Kreativ Kitchens
Matthew Grantham