DARK CEMENT HANDLELESS KITCHEN WITH TRILIUM DEKTON BREAKFAST BAR
This breathtaking monochrome kitchen in Wakefield feels fresh and airy with a sleek industrial loft vibe. The skylights and extra-wide glass doors give plenty of natural light to this space, emphasising the gorgeous cement texture on the units and brightening the white storm quartz worktops for a striking contrast. Light oak finishes and wooden bar stools create a laidback atmosphere, ideal for casual dining at the breakfast bar.
The beautiful quartz worktops used throughout this project blend seamlessly with the white walls. The angular beam and pitched roof create bold lines which are mirrored in the kitchen design for a fluidity that breaks up the dark units, giving an architectural and balanced aesthetic.
State of the art appliances, with 4 inbuilt AEG ovens and a Bora hob, help to create a kitchen that's practical as well as stylish. The Bora hob is a superb choice for a kitchen island, allowing our client to socialise at the breakfast bar whilst they cook and with the added bonus of induction safety features and no need for overhead extraction. The Dekton breakfast bar adds to the architectural feel of the room whilst highlighting the natural social focal point in the room.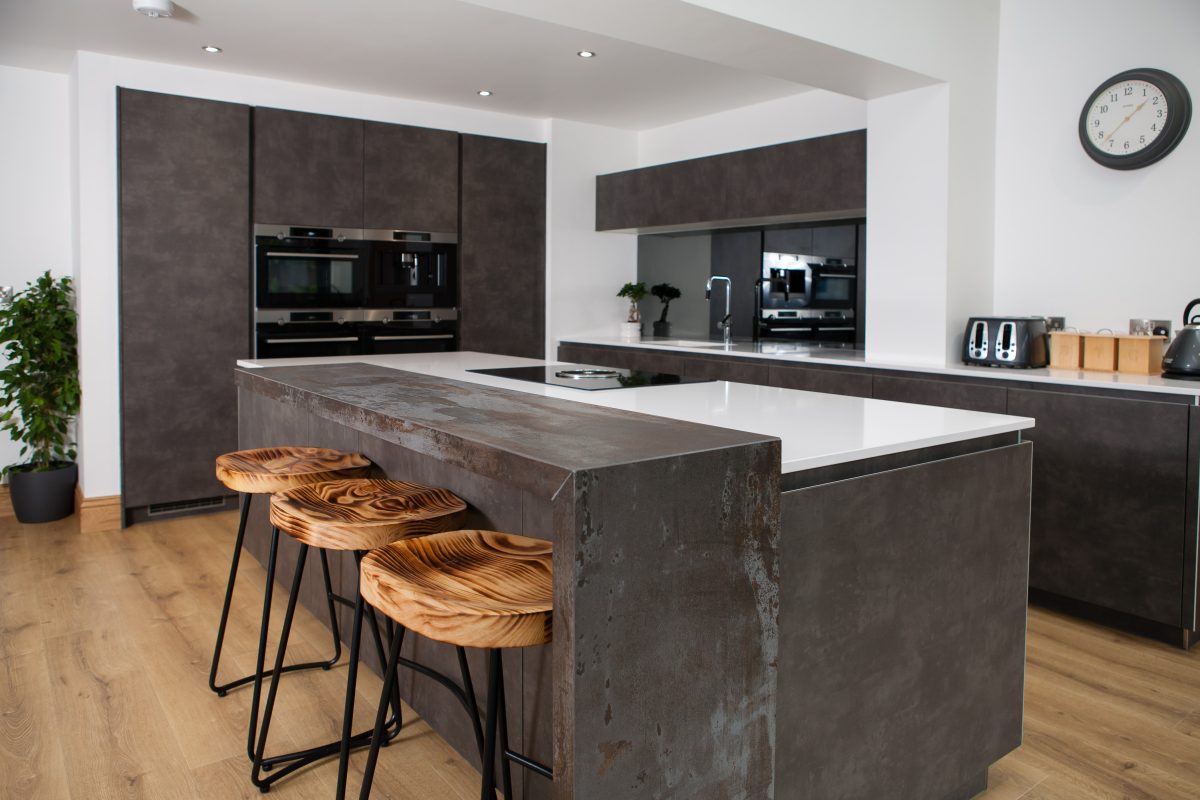 A contemporary reflective splashback enhances the spacious feel of the room by acting in the same way as a traditional mirror, bringing depth and light to the space. The sleek finish also adds a wonderful feel of luxury and sophistication. This kitchen has been flawlessly designed and finished with gorgeous styling for a superbly functional and enviable space.
If you've been inspired by this kitchen project and would like to know more, please don't hesitate to contact us for more information. We would be delighted to talk over how we perfected this bespoke design and to find out more about your own bespoke project.
Key Features
Inbuilt AEG ovens
Reflective splashback
Light oak accents