PRONORM Y-LINE MIDNIGHT BLUE KITCHEN WITH OAK ACCENTS
This stunning York kitchen strikes the perfect balance between sleek and minimal styling and elegant, homely touches. A clean and seamless L-shaped layout combines with striking handleless cabinetry to make a bold design statement. The gorgeous Midnight Blue and soft White surface finishes bring a stylish and sophisticated feel to the scheme. Enveloped in luxurious Silestone White Arabesque quartz, the island establishes a dramatic architectural focal point. However, the Oak End Grain detailing and brushed bronze splashback radically alter this stark contemporary aesthetic. They offset the clean-lined cabinetry beautifully, bringing an inviting warmth and softness to the interior.
A range of open storage options allows our clients to add a personal touch to their space. As well as providing the perfect place to display recipe books and ornaments, the niches at the end of each run bring a sense of balance and cohesion to the L-shaped layout. With beautiful oak internals and integrated lighting, the glazed wall cabinet offers a lovely spot to store glassware, creating an enticing kitchen feature.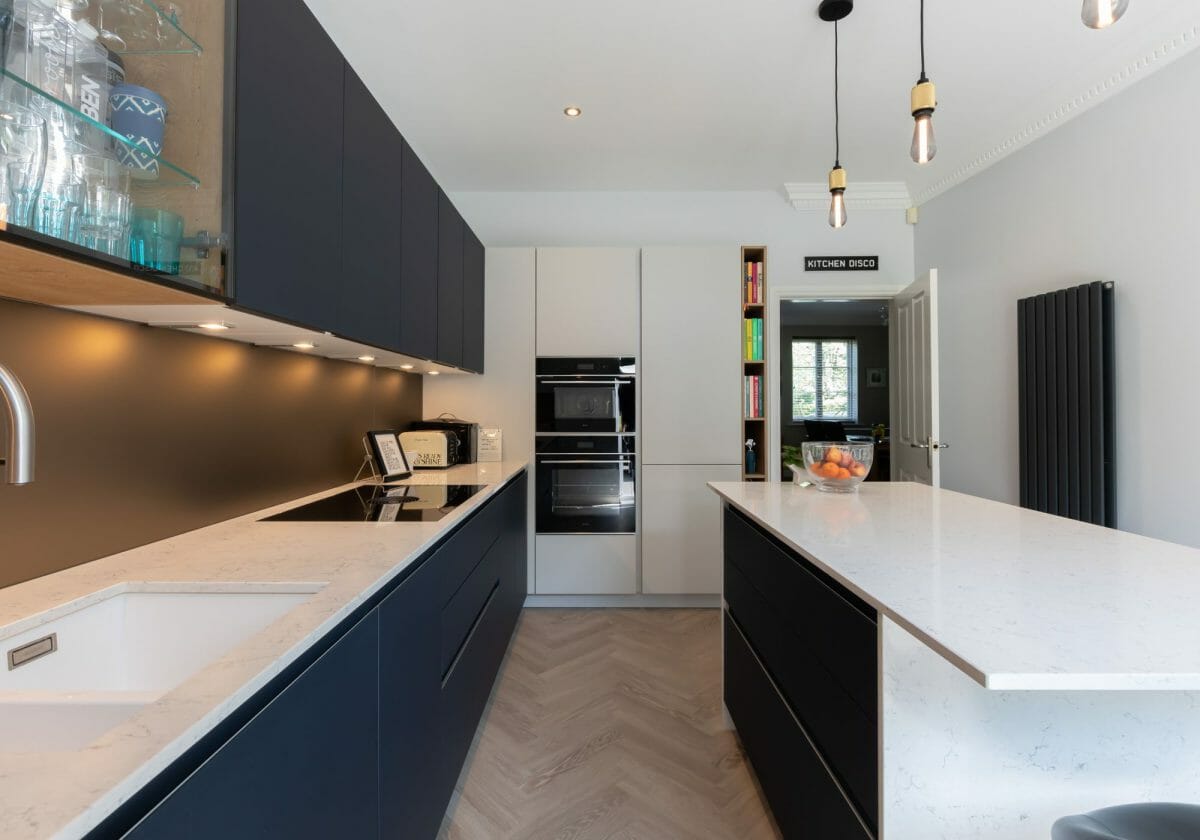 This pared-back yet cosy kitchen also showcases a selection of innovative appliances, including a Quooker tap, Bora venting hob, and Caple ovens. It doesn't compromise on sleek looks, personal touches, or modern functionality. Our clients were really impressed with how we captured their vision.
Key Features
Quooker Tap
Bora Venting hob
Caple Ovens
"This stunning and versatile kitchen enhances day-to-day family living whilst creating a sophisticated focal point to our client's home."
Director | Kreativ Kitchens
Matthew Grantham