HIGH GLOSS STONE GREY & MATT LACQUER STRATUS GREY KITCHEN WITH LAGOON QUARTZ WORKTOPS
This exceptional sleek kitchen design uncompromisingly meets our Roundhay client's brief of creating a fabulous space for entertaining. The cutting-edge handleless cabinetry almost appears to float in the space as the room is flooded with natural light from the skylights and patio doors. The light reflects off the luxurious marble effect floor that seamlessly meets the brilliant white walls and ceiling to fill the room. Gorgeous white lagoon quartz worktops mirror the luminosity of the room for a unique effect that seems to cut a balancing linear profile through the space.
An understated monochrome colour palette of Stone Grey and darker Stratus Grey flawlessly complement each other, with the warm beige undertones of the Stone Grey hue emphasising the depth of the matt cabinetry and the detail of the extravagant flooring. The high gloss finish adds a distinctively sleek and feminine quality to the design which beautifully contrasts with the dark grey units. An impressive mirror splashback gives an ultra-modern and sophisticated feel.
A generous kitchen island takes centre stage in this stylish design. Featuring a state-of-the-art Bora extraction hob, this island transforms our client's kitchen into an effortless hub for entertaining. Our Roundhay clients can busily prepare their guests' meal whilst visitors have convenient access to a fabulous wine cooler. An outstanding Quooker hot water tap speeds up food preparation for seamless functionality. With the trendy contemporary seating positioned to one side of the island, the other side remains clear maintaining an uninterrupted workflow.
Two living zones are carefully tucked away at each end of this L shaped room. This sophisticated broken plan approach creates a perfect cosy corner for relaxing to watch a film whilst the other zone is an ideal casual dining area and a superb spot for admiring the garden. Elegant sofas maintain an informal tone which instills a multifunctional quality to the space whilst the white dining table is in-keeping with the rest of the interior.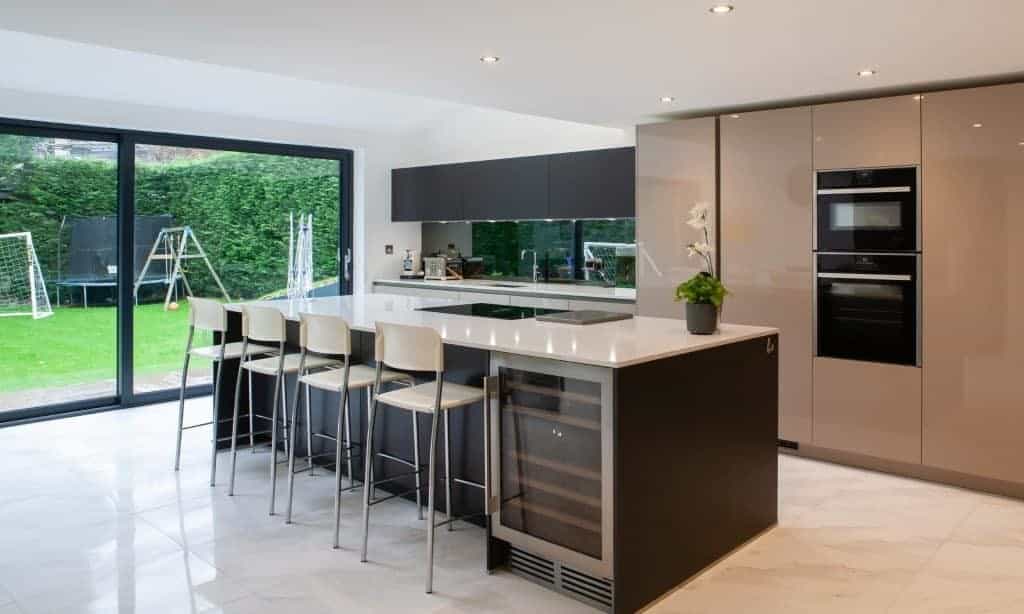 If you've got a bespoke kitchen project that you'd like to discuss with our expert design team, we'd love to hear from you. You can contact our Leeds showroom now by calling us on 0113 269 2784 to speak to a member of our team.
Alternatively, you can click the button below to arrange a design appointment. Simply enter your details and we'll give you a call back as soon as we can to schedule your visit for a time and day that works for you and your schedule.
Key Features
White lagoon quartz
Bora extraction hob
Quooker hot water tap
"We love this transformation of our client's basement to give them a modern open plan living area with tons of natural light. A truly enviable space which is absolutely perfect for entertaining."
Director | Kreativ Kitchens
Matthew Grantham