BOLD BLACK HANDLELESS KITCHEN WITH ICONIC WHITE QUARTZ WORKTOP
A traditional home needn't restrict you to a traditional kitchen. This barn conversion in Elmet, Leeds has been transformed with an impressive contemporary, minimalist kitchen complete with a striking modern dining area. This stylish and spacious interior creates a breath-taking focal point to our client's Leeds home.
The bold use of black cabinetry throughout this kitchen creates an extraordinary design statement. The choice of colour scheme is committed; with black appliances, fixtures, lighting and a dark wood dining table and chairs making a dramatic impact against the light oak flooring, quartz worktop and white walls. The textured finish on the larder doors cleverly draws a parallel with the traditional solid oak beams above, establishing a sense of authenticity that's in keeping with the style of the property.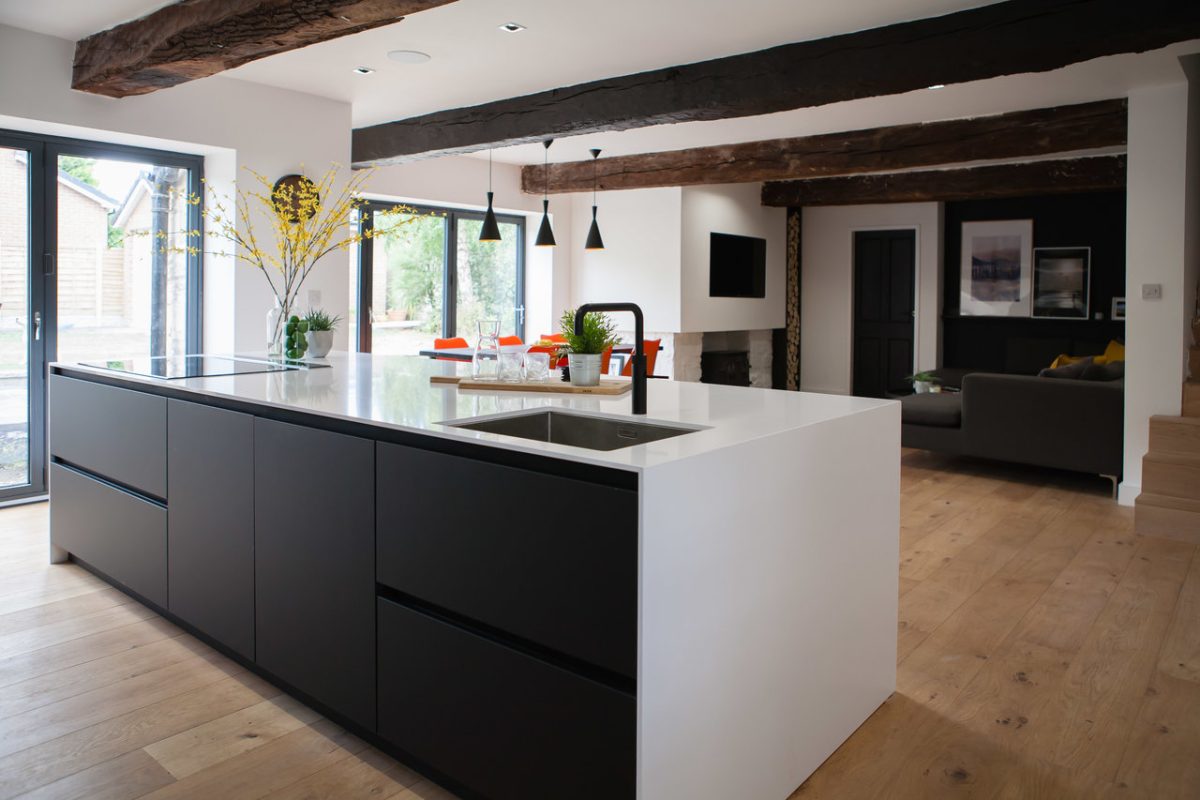 Large bi-fold doors encourage natural light to flood the space, ensuring the room never feels dark. White walls and exquisite white quartz worktops reflect the brightness, keeping this space open and airy.
Perfectly situated for a stunning view across the grounds, the gorgeous dining area is enhanced with vibrant orange chairs which provide a strong accent of colour that stands up to the dark furniture. This stunning kitchen creates a remarkable impact befitting its characterful setting. Our bespoke design perfectly suits the property and our Leeds client.
Key Features
Bi-fold doors
Dark wood dining table
Vibrant orange accent
"In this converted barn, our client was looking to ditch the traditional look and create a space that was minimalist, and contemporary – I'm pleased to say we did just that with the incorporation of the original beams and the black oak bank of larder units."
Director | Kreativ Kitchens
Matthew Grantham