PRONORM X-LINE MATT BLACK & STEELBRUSH GOLD KITCHEN
The exquisite Matt Black cabinetry dominating this kitchen sets a moody and sophisticated tone to the room. Paired with a pristine handleless design, the soft texture feels sumptuous and chic. A sleek row of Steelbrush Gold overhead cabinets adds to the luxurious tone, as does the stylish ceiling light. Contrasting Silestone White Arabesque worktops prevent the scheme from becoming too dark. The mirrored splashback completes the look, introducing a glamorous metallic flourish.
However, the most showstopping feature of this interior has to be the gorgeous dining island. Accommodating five elegant bar stools, the spacious dining area is ideal for laid-back suppers and casual drinks. It helps maximise all the available space while creating a truly striking focal point.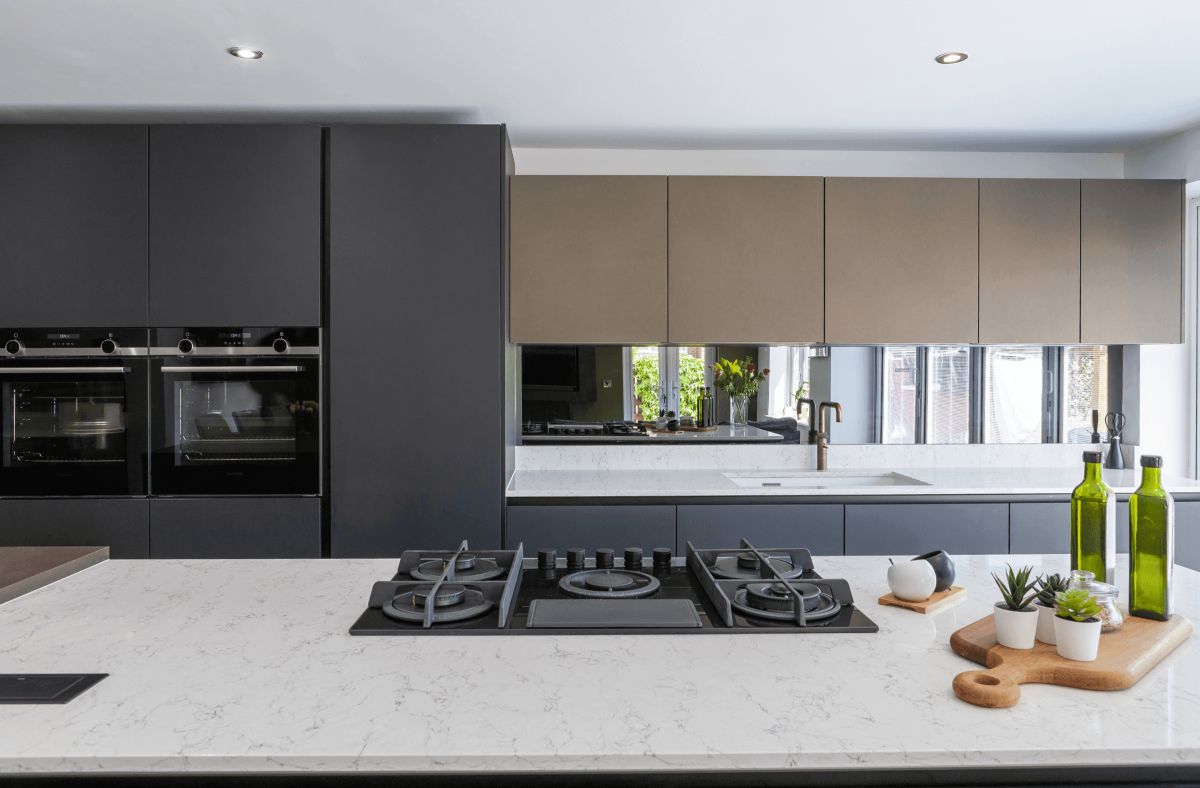 This York kitchen doesn't lack anything when it comes to functionality. A venting gas hob combines the ultimate in cooking and extraction technology. A Quooker tap provides boiling water on demand. Meanwhile, a dedicated breakfast station proves indispensable when the kitchen is at its busiest. The spacious island comprises solely of practical drawers, perfect for storing everything from pans to spices. This kitchen is undeniably fantastic to use.
This York kitchen makes a dramatic impact. It establishes a stunning backdrop to our client's open-plan living space. We love the bold pairing of Pronorm's Matt Black and Steelbrush Gold finishes.
Key Features
Steelbrush Gold overhead cabinets
Mirrored Splashback
Handleless design
"The dining bar adjacent to the main island represents the ultimate combination of style and practicality. We couldn't be more pleased with how this design turned out."
Director | Kreativ Kitchens
Matthew Grantham