Bespoke Kitchens in Wakefield
Experience the extraordinary and transform your Wakefield home with an immaculate modern kitchen from the pioneering design team at Kreativ Kitchens.
At Kreativ Kitchens we go to great lengths to craft spectacular interiors that don't just establish a great looking space, but that transform the way you experience your Wakefield home on a daily basis. Kitchens have changed, and we firmly believe that your new kitchen should be so much more than just a space to cook. It should be somewhere you can relax with your family; it should create an enviable focal point for friends to gather, it should allow you to take time to yourself, but most of all, it should be a space that you truly relish spending time in every day. At Kreativ Kitchens, we have years of experience in designing and installing extraordinary kitchens and we understand exactly what it takes to create a space that's truly unique to you and your Wakefield home.
Experience our Exquisite Ranges
Our flair for creating exceptional modern interiors is clear to see, but what's behind each ground-breaking design is just as important. We are unwaveringly committed to ensuring excellence in everything we do, and this includes taking the time and care to build a relationship of trust and support with all our clients. Our experienced and professional team go above and beyond to ensure your project runs smoothly from start to finish, and as Wakefield's local contemporary kitchen specialists, you can have complete confidence in entrusting your home to us.
Breath-Taking Bespoke Kitchens in Wakefield
We pride ourselves on thinking outside the box and pushing the boundaries of modern design to create truly breath-taking spaces. Designing your extraordinary Wakefield kitchen involves a complex balance of components, from individually tailored practical and stylistic features to a unique composition of exquisite surface finishes and colours. At Kreativ Kitchens our experienced and talented designers work collaboratively with you to bring all these elements together into perfect harmony to create an inspiring bespoke interior.
When you choose to work with Kreativ Kitchens you will find a variety of the most exceptional quality designs from two renowned German manufacturers at your fingertips. Their stunning products showcase the most sublime modern finishes, from dramatic oxides to soft natural wood grains. Choose from our luxurious worktop materials and stylish accessories to add the perfect finishing touch to your space. You can rest assured, if you have any doubts, our expert designers will be here to guide you on your journey.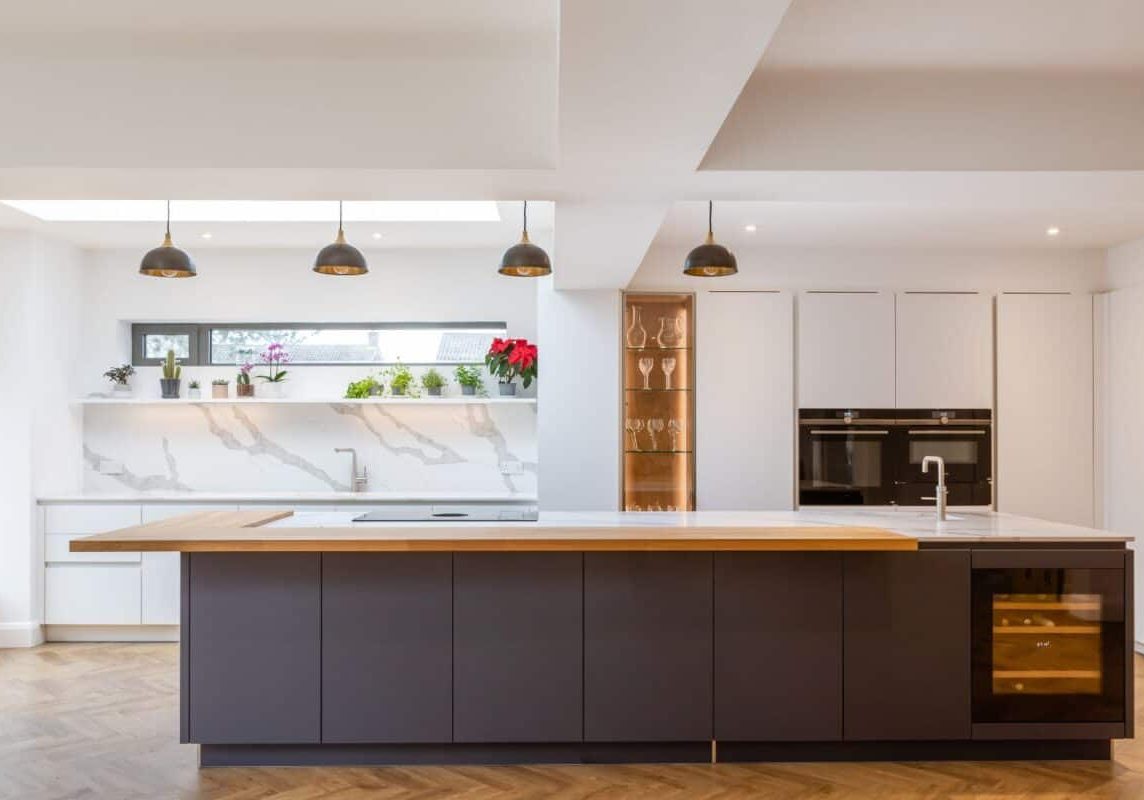 Pronorm embodies unlimited creativity through and through. They are passionate about offering their customers unparalleled choice and exceptional quality for attainable prices so you can achieve your remarkable vision no matter what.
Poggenpohl indelibly combines architectural concepts and design principles with trendsetting product offerings, outstanding craftsmanship, and technical precision.
At Kreativ Kitchens, we're experts in the design & installation of beautiful, bespoke kitchens. When you choose to work with us, we'll collaborate closely with you throughout every stage of the journey to absolutely ensure that we transform your visions into a reality that exceeds your expectations in every single way. You can view some of our extraordinary kitchen projects now below...
It's undeniably true that other kitchens simply can't compete when it comes to epitomising quality, longevity, reliability and style through and through. German kitchens are precision-engineered to the highest standards to ensure outstandingly flawless looks that stand the test of time in every sense.
Their extraordinary quality, refined minimalist aesthetic and sublime practicality perfectly complements what we do here at Kreativ Kitchens. We pioneer a new approach to kitchen design, where aesthetics and functionality work in harmony to create interiors that embrace the modern lifestyle. We strive for a level of perfection that can only be attained through uncompromising individuality. Working with two of the worlds leading German kitchen manufacturers means we have everything we need to make our ground-breaking visions a reality.